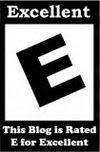 The Rules:
By accepting this award I must now share with you 10 blogs that I also deem 'excellent'. If you are one of my 10 you then choose 10 blogs that you feel have an excellent quality about them. You can give it to as many people as you want-even those that have received it already, but please award at least 10 people.

So my ten that I am passing this award on to are:

Growing up Gifted This is a wonderful blog about life with gifted kids. I'm sorry to say that it won't be as active as before and possible coming to a complete end, but as long as it remains up, it is still a wonderful resource for life with gifted kids and all they bring to the joys of parenting them.

Learning in Freedom This blog is a wonderful view into an amazing momma's life and how she Radically Unschools her four children. I must take a moment and say, " Thank you, Ren. You are a true inspiration."

Life Without School is an Unschooling Community blog. It's a wonderful place to read about unschooling and the joys and adventures it brings into the home. The latest entry is by Mimi, Guest Author, as she shares her story of 'How My Children Learned to Read... Differently!'

ComfyDenim shares her life as a homeschooling mom. I really enjoy the creative ways she makes learning fun.

MayTheyBeMightyMen takes us through the wonders of raising spirited sons and other fun stuff of interest.

bethanyrae is always an enjoyable read. You never know just what fun you will find but it's always a great blog to visit. I really liked the ice sculptures!

40winkzzz always has great stories of their homeschooling adventures. Her recent entry has lots of wonderful pictures of their recent trip to Pennsylvania.

PlainJane shares their Lifestyle of Learning through Christian homeschooling and homesteading on their hobby farm. This blog always warms my heart.

MiryClay is always an inspiration as she raises her two teenagers.

jugglingpaynes & Jugglingpaynes ;-) Has been my blogging inspiration. Without her steady friendship and level headed advise, I couldn't say how well I'd be traveling the homeschooling (unschooling) road let alone, having two blogs. Visit Christina to enjoy her comics about life and homeschooling and enjoy her posts about their life's journey.
There are many, many, more great blogs deserving this award, but alas, I've hit my ten. Check out my sidebar for more of my favorite reads.