Then we used copper wires for the cathodes and zinc plated screws for the anodes inserting one of each into each piece of fruit.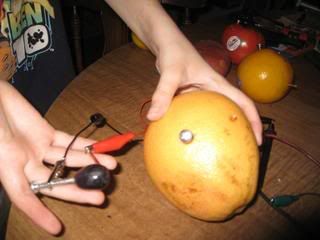 Clip leads were used to connect each fruit to the volt meter.
We also ran a kitchen timer with lemon power.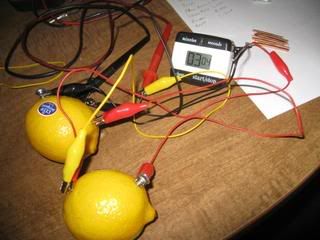 We tried to run a small electric motor but found we did not have enough current.
Here are our findings:
1. Apple = 1.008 volts
2. Strawberry = 1.005 volts
3. Lemons = 0.993 volts
4. Tomato = 0.988 volts
5. Orange = 0.974 volts
6. Banana = 0.956 volts
7. Blueberry = 0.955 volts
8. Grape = 0.938 volts
9. Grapefruit = 0.974 volts
10. Potato = 0.794 volts
And here they are lined up in order of voltage: