I am so easly influenced! A dear friend had a date night with her hubby and had so much fun that she suggested that my hubby and I also make it a date night and go see this movie 'Stardust'.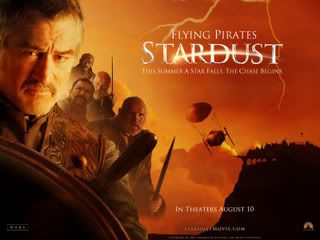 Well I hymmed and hawed about all the many reasons it was a great idea but it would never happen as I hit the send key on an email to my spouse. REALLY! My spouse and I live such crazy lives that we communicate via email, cell phones and talking while running errands together on the random days we both have off. Dates? Please... We've rarely gone out together since we've been married. We usually always take the kids and make it a family night. Well, last Saturday, my spouse shocked me when he told the kids it would just be the two of us as we had a date! Ten years of marriage and now we're dating! WoW! This also earns a Woot wOOt wOoT WOOT!!! (This Momma really flipped!)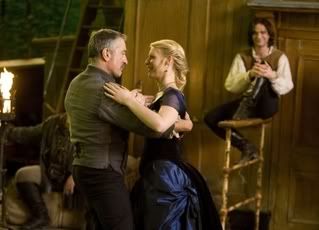 Anyhoo, if you haven't seen 'Stardust', you really must get out and see it. This one is well worth the watching. It has action, suspense, humor, and romance.
It does have witches, so if you're fairy tale sensitive, you might want to pass on this one as it does have the classic evil witches similar to The Brothers Grimm.
Some of the scenes were so hysterical that the whole audience was laughing out loud. Both my spouse and I found this a charming love story well worth watching together.